Riviera is one of the largest ships in the Oceania Cruises fleet. This Oceania Riviera review explains what makes her different. I tell you about the restaurants, as well as the bars and nightlife. There is a video tour of the Veranda Stateroom – the most popular type of room on Riviera. I also share insiders tips to help you make the most of your time on board. Click on the tabs above to go to each part of this Oceania Riviera review.
What's hot
The outstanding Red Ginger restaurant.
Never feels crowded.
The best coffee at sea in Baristas cafe.
What's not
Lacks the intimate, club like feel of the smaller ships in the fleet.
Oceania Riviera review ratings
| Staff | Rating |
| --- | --- |
| Service efficiency | |
| Enthusiasm | |
| Problem solving | |
| Language skills | |
| Amenities | Rating |
| --- | --- |
| Rooms | |
| Dining | |
| Nightlife | |
| Wellness | |
About Oceania Riviera
Oceania Riviera was built in Italy and launched in 2012. She is the second of the Oceania-class of cruise ships. Riviera is larger than most other ships in the fleet. Indeed, she is 239 m. / 785 ft. long with room for 1,250 guests. That is almost double the number of guests on the smaller R-class ships like Oceania Nautica.
Riviera had a major refurbishment in 2019. There were new carpets laid throughout the ship, the staterooms were refreshed and the suites were redecorated. The teak pool deck was also rejuvenated and the Baristas lounge was added.
Oceania Riviera has a country club atmosphere. In fact it strikes just the right balance. There is a top-end feel, but it is never pretentious. The decor has a nautical vibe with dark timber and tones of teal and cream. The ship is also bursting with modern artwork.
Riviera has eight different room types, including Staterooms and Suites. There are Inside, Ocean View, Veranda and Concierge Level Veranda Staterooms. Although it's worth noting that Veranda and Concierge Level Veranda Staterooms are in fact the same size, only the amenities differ. My Oceania Riviera review has a video tour of the Veranda Stateroom so you can see what it's really like.
Suite types include Penthouse, Oceania and Vista. There is also the top of the range Owners Suite. This is furnished with the Ralph Lauren Home Collection.
Food on Oceania Riviera
Riviera is a foodies paradise. It has some of the best food at sea. In fact, dining is a highlight of any voyage.
As this Oceania Riviera review explains, there are seven great restaurants to choose from. Five of these are specialty venues. I think Red Ginger is the best of these. It is an Asian restaurant serving delights like Miso Seabass and Spicy Duck & Watermelon Salad. There is also the Grand Dining Room with its old-world charm. The Terrace Cafe has al fresco dining. The Polo Grill is an American style steakhouse and there are Italian and French restaurants too.
Oceania Riviera also has a very special restaurant called La Reserve. It is a partnership with Wine Spectator. La Reserve has a great degustation menu paired with fine wines, including Dom Pérignon champagne. It is a real treat.
Light snacks as well as tea and coffee are available at Baristas cafe. In-room dining is also available 24-hours a day.
Riviera nightlife
When it comes to nightlife Riviera has something for everyone. There is the lively atmosphere of Martinis Bar, or the more intimate Casino Bar. Also, the popular Horizons Lounge is a great place to enjoy a sunset drink. The string quartet play in the Grand Bar each evening and there are shows in the Riviera Lounge.
Fitness at sea
Keeping fit and looking good on Oceania Riviera is easy. There is a gym as well as pilates and yoga classes. You can practice your golf swing in the driving nets or enjoy the views from the jogging track on the top deck. There is also a spa with a relaxing range of beauty treatments and massage therapies.
On board activities
Oceania Riviera has some unique on board activities. There are popular cookery classes in the Culinary Center, as well as painting lessons in the Artists Loft.
In addition, there are also a range of other activities including trivia, table tennis, needlepoint, bridge and a daily Mensa quiz. These are all advertised in the daily Currents newsletter.
What's included on Oceania Riviera
Your cruise fare on Oceania Riviera includes much more than most other premium/luxury cruise lines.
All meals are included, even in specialty restaurants. Drinks like sodas, juice, bottled water, tea and coffee are also included.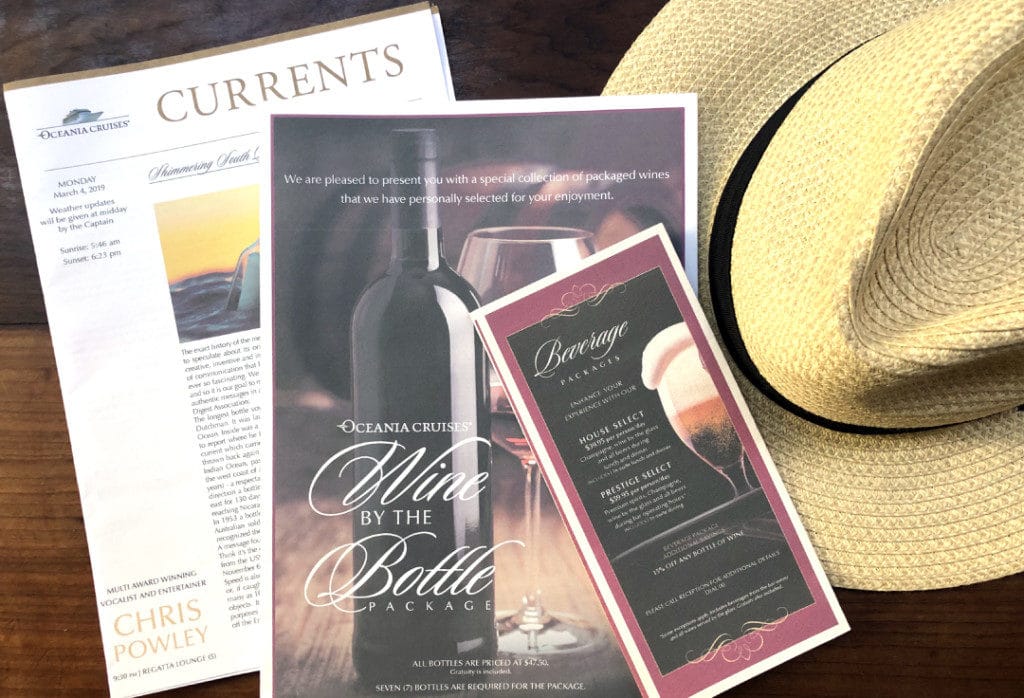 It is important to note that alcoholic drinks are not included. However, there are some good value Oceania beverage packages. You can also buy drinks by the bottle or glass.
Riviera usually has a free shuttle bus service between the port and downtown if it is not nearby.
In addition, there is a self-service laundry, although guests staying in Concierge Level rooms and Suites get a free laundry allowance.
Fellow guests
Riviera is a popular cruise ship. Indeed, on my voyage many guests had sailed on Riviera before.
Most guests range in age from 35 to 75-years old. However it's worth noting that there can be young families with toddlers on board too. When I sailed this irritated some guests, especially in and around the pool.
Most guests come from the U.S.A, but there are usually Britons, Canadians and Australians as well.
Oceania Riviera is gay-friendly.
Oceania Riviera dress code
The Oceania Riviera dress code is country club casual. In other words, smart casual wear is ideal.
During the day guests wear shorts, jeans and T-shirts. However, it's important to note that tank tops or swimsuits should not be worn in any of the restaurants.
After 6:00pm the Oceania Riviera dress code steps up a notch. Men wear slacks and a shirt (jacket optional). Women wear slacks or a skirt, and a blouse.
Riviera does not have formal nights.
Oceania Riviera review conclusion
There is a lot I love about Oceania Riviera. This beautiful cruise ship has some of the best food at sea. Also, the staterooms are the biggest in their class and the ship never feels crowded.
However, it does lack the intimacy of smaller ships like Oceania Nautica and Regatta. That said, there is plenty to enjoy. So click through to the next section of this review to learn more.
Read the accommodation section of my Oceania Riviera review by clicking the button below.
The author sailed as a guest of Oceania Cruises.