Oceania Cruises do not include alcoholic beverages in the price of their cruise fares. However, they do have a range of exclusive Oceania beverage packages. These drinks packages offer excellent value, but there is also the option of paying per beverage.
See our Oceania Riviera review and video tour.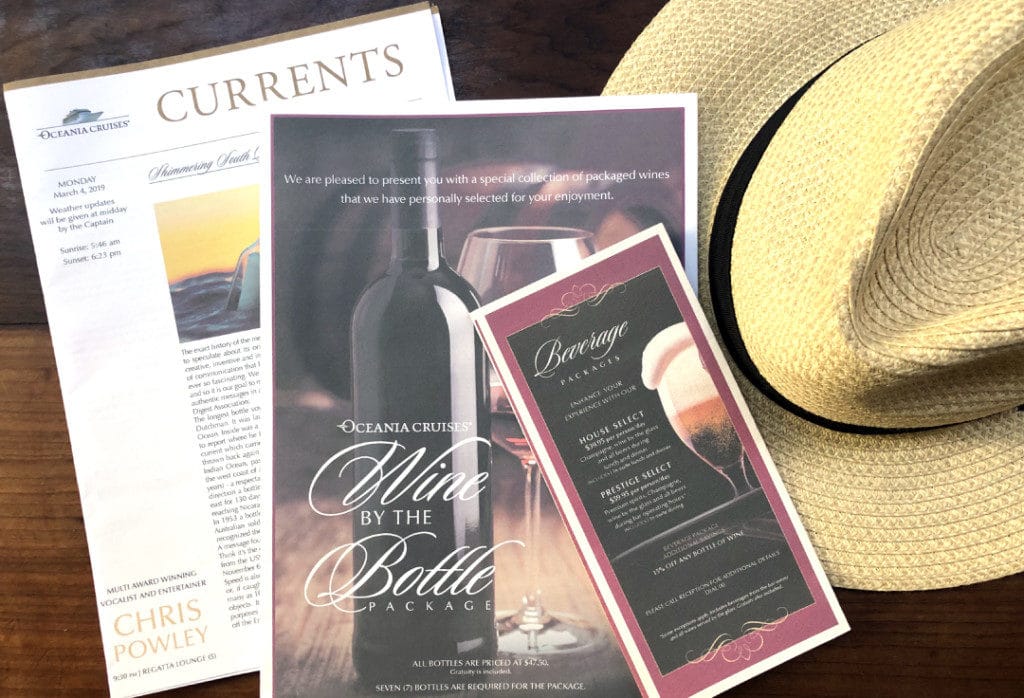 The Oceania beverage packages
There are three Oceania beverage packages. Two of them offer libations by the glass, while the other enables you to select bottles of wine.
In addition, there is also a daily Wine With Lunch promotion as well as two happy hours.
House Select package
US$39.95 per person per day.
The House Select beverage package is the least expensive. It offers champagne, wine and beer by-the-glass during lunch and dinner, including in-room dining.
The price of the House Select package includes gratuities.
It is important to note that only your drinks are covered by the package.
Prestige Select package
US$59.95 per person per day.
The Prestige Select package enables you to order whatever you like, including premium spirits, cocktails, champagne, wine and beer. You can order these by-the-glass during bar operating hours, or with in-room dining.
This Oceania beverage package represents excellent value for money. It also includes gratuities.
It is important to note that only your drinks are covered by the package.
Wine By The Bottle package
Starting from US$332.50.
Oceania also have a wine by the bottle beverage package. A range of whites, reds, rosés and late-harvest wines are available.
At the time of writing almost all of these wines were new-world varieties. It's worth noting that the champagne is a Brut Nicolasfeuillatte Rosé – a very nice drop.
The bottles are priced at US$47.50 each. The price includes gratuities. The package must include at least seven bottles. It's worth remembering that once ordered, you cannot add extra bottles to the package.
The bottles are not refundable, however you can take home any bottles that you do not drink on board.
Wine With Lunch
US$7.50 per glass + gratuity.
Each day Oceania Cruises have a special Wine With Lunch promotion. This includes one white wine and one red wine offered at a reduced price. The daily Currents newsletter will advertise details of each wine.
The Wine With Lunch promotion is available in the Grand Dining Room, the Terrace Cafe and Waves Grill.
Happy hours
In addition to the beverage packages, Oceania Cruises have two happy hours each day:
5:00pm – 6:00pm in Horizons and Martinis
10:30pm – 11:30pm in Horizons
During these Happy Hours guests can purchase two of the same drink for the price of one. However, the offer only applies to the standard Bar List. It excludes the Martini's menu, as well as single malt scotches, OXs, the cocktail of the day and the wine of the day.
Visit the Oceania Cruises website to learn more.