Overview
Holland America Line's Rotterdam cruise ship has tempting specialty restaurants as well as great live music venues. However, as this Rotterdam review explains, there are things worth knowing before taking a cruise vacation on board.
The Rotterdam cruise ship also has two swimming pools for relaxing, as well as a large gym and a spa with lots of indulgent treatments (for a fee). There's even a basketball court and a good sized jogging track.
Most guests stay in Verandah Staterooms which I rate as comfortable, but modest in size. However, there are also big suites on the Rotterdam cruise ship for those who like more space.
As you'll see in this Rotterdam review there are pros and cons, but on the whole I think the Rotterdam offers a very good big-ship cruise experience.
Pros
Multiple live music venues.
Excellent pan-Asian specialty restaurant.
Exciting production shows in the World Stage theatre.
Cons
Beverages not included.
Speciality dining costs extra.
Can feel crowded.
For privacy reasons YouTube needs your permission to be loaded. For more details, please see our
Privacy policy
.
I Accept
Our review ratings
| Staff | Rating |
| --- | --- |
| Service efficiency | |
| Enthusiasm | |
| Problem solving | |
| Language skills | |
| Amenities | Rating |
| --- | --- |
| Rooms | |
| Dining | |
| Nightlife | |
| Wellness | |
About HAL's Rotterdam
The Rotterdam is a Pinnacle-class cruise ship in the Holland America Line fleet. Indeed, it is the third and final of the cruise line's Pinnacle-class ships following Koningsdam and Nieuw Statendam. Rotterdam is also the 7th Holland America Line vessel to bear the iconic name.
The ship was built in Italy and debuted in October 2021. However, because of the pandemic Rotterdam was not christened until May 2022.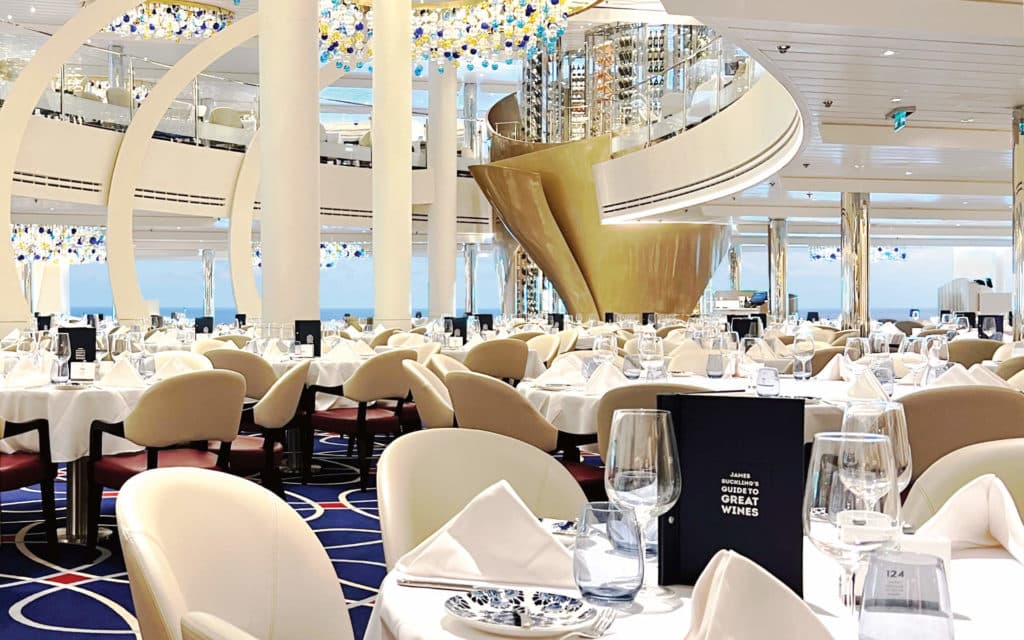 The Rotterdam cruise ship is 295 m. / 984 ft. long with space for 2,668 guests in a double occupancy configuration. Though it's worth noting that there is room for almost 3,000 guests with triple and quad occupancy staterooms. It can feel crowded when that many people are on board.
The public areas on Rotterdam are chic, yet subtly evoke the Dutch heritage of the cruise line. As you'll see in this Rotterdam review, there is also bold design and eye-catching artwork at every turn. Indeed, the value of the art collection exceeds USD4.1 million.
Food on board Rotterdam
The dining scene on Holland America Line's Rotterdam is one of the cruise ship's big drawcards, but as you'll see in this Rotterdam review not all the restaurants are as good as others. There are six speciality restaurants, a main dining room, a large buffet and fast food outlets.
The Asian-inspired Tamarind is among the best of the speciality restaurants. The Wok-Seared Lobster is not to be missed. The French focused Rudi's Sel de Mer is also good, with dishes like Bouillabaisse Marseillaise and an excellent Whole Dover Sole. The Pinnacle Grill steakhouse serves quality surf and turf. There is Italian fare in Canaletto, though the menu is somewhat underwhelming. On the other hand, Nami Sushi has exceptional sashimi inspired by master chef Andy Matsuda. While Michilin starred chef Jonnie Boer brings culinary inspration to the menu of Taste of De Librije (European sailings only). It's worth noting all these specialty restaurants charge dining supplements.
The Dining Room is the multi-level main restaurant serving tempting dishes like Tangerine Glazed Duck Breast. Indeed the menu is enticing, but I have to say that on my voyage the food wasn't always as good as it might have been.
The Lido Market on deck 9 is a buffet with themed food stations. There's Mexican, Asian and Italian offerings, as well as fish & chips, sandwiches, salads and desserts.
In addition, Rotterdam has the popular Grand Dutch Cafe on deck 3. The New York Deli & Pizza offers casual poolside dining. Dive-In serves burgers and hotdogs. While there is ice cream at Gelato (for a fee).
Nightlife on HAL's Rotterdam
Live music is integral to the entertainment experience on Rotterdam. In fact the cruise ship has a dedicated live music precinct known as 'the music walk'. There is jazz at the B.B. King Blues Club while the Lincoln Center Stage has a great quartet. Duelling piano players sing pop hits in Billboard Onboard and there is an exciting band in the Rollingstone Rock Room. In addition, the World Stage features big production shows. On my Rotterdam review voyage some of these were excellent.
Accommodation
The staterooms and suites on the Rotterdam cruise ship are tastefully decorated, with beechwood fixtures and brushed silver highlights.
Inside Staterooms have no view, which means they are the least expensive type of accommodation. On my Rotterdam review voyage I stayed in a Verandah Stateroom which was modest in size, but nonetheless comfortable. It had a surprisingly large bathroom with a big, walk-in shower.
For those who like even more space there are also Signature and Neptune Suites. I especially liked the Neptune Suite which had an enormous balcony, complete with outdoor dining furniture and sun loungers. In addition, there is the top of the range Pinnacle Suite.
The accommodations span the entire length of the cruise ship, however it's worth noting that the suites are all located on higher decks.
Fitnesss at sea
Rotterdam has a range of fitness and recreation options including indoor and outdoor pools, an enormous gym, a basketball court and a jogging track. Also, there are wellness treatments in the luxurious Greenhouse Spa & Salon, for a fee. There's even a barber shop for male grooming.
Rotterdam cruise ship activities
Holland America Line's Rotterdam has the usual shipboard activities including bridge, trivia, yahtzee, shuffleboard and lectures from guest speakers. There are other activities too, like art studio classes, whiskey tasting at Notes (for a fee), dance classes and even flower arranging.
There are also get-togethers for solo cruisers and friends of Dorothy, as well as friends of Bill W.
In addition, Rotterdam has a games room with chess, backgammon, Scrabble and other popular board games. There is a well stocked library, which I enjoyed. It is a peaceful place to read and relax. Rotterdam has boutiques selling designer apparel and there is also a dedicated youth club for kids and teens.
Inclusions on board Rotterdam
A basic Rotterdam cruise fare only includes accommodation, meals (excluding specialty restaurants) and entertainment. Almost everything else on board comes at an additional cost.
Beverages are not included in the cruise fare, so I recommend purchasing one of the HAL beverage packages. These include water, tea, coffee, sodas, wine and spirits.
Dining in the specialty restaurants also costs extra, usually in the form of a dining supplement. However Nami Sushi has an à la carte menu with prices marked like regular land-based restaurants.
Gratuities are not included in a Rotterdam cruise fare. So a service charge of 15% will apply to beverages and spa treatments. It's also worth noting that there is a daily hotel service charge of USD14.50 per guest per day for stateroom guests and USD16.00 per guest per day for suite guests.
I noted during my Rotterdam review voyage that there are no self-service laundry facilities onboard. However there are HAL laundry and pressing packages available for purchase, some of which represent good value.
Cruise fare add-on's
It's also worth noting that some Rotterdam cruise fares and add-ons offer extra inclusions.
For instance, guests staying in suites have access to Club Orange. It includes perks like welcome sparkling wine, priority boarding, priority specialty restaurant reservations, upgraded room amenities and a dedicated Club Orange Guest Services desk. There is even an exclusive Club Orange Restaurant. Non-suite guests can enjoy these benefits with a Club Orange add-on (for a daily fee).
In addition, there is also a "Have It All" add-on which entitles guests to shore excursions, beverages, specialty dining and Wi-Fi. At the time of writing the "Have It All" add-on cost USD50 per guest, per day for voyages of 7-days or more. However, there are limits on the shore excursions, specialty dining and type of beverages available.
The Rotterdam dress code
The Rotterdam dress code ranges from casual to 'dressy'.

During the day casual attire is appropriate in most venues on Rotterdam. In the evening, after 6pm, there are two different types of dress code: Smart Casual and Dressy (Gala).
Smart Casual includes slacks and collared shirts for men, and casual dresses, slacks and informal evening-wear for women.
When the dress code is Dressy (or Gala) women wear a suit or slacks, cocktail dress or gown, while men wear a jacket, dark suit, or tuxedo (tie optional). There will usually be at least one gala evening per 7-day sailing. On my Rotterdam review voyage most guests enjoyed dressing up on gala nights.
Fellow guests
Rotterdam attracts cruisers of all ages and nationalities. There is a mix of young families and older couples on board. Indeed, during my Rotterdam review voyage guests ranged in age from 5 to over 75.
My sailing was a Northern European voyage, so most guests were from the Netherlands and Belgium. However, when Rotterdam sails from other parts of the World it is more common to find the majority of guest from the USA, UK and Canada.
It's also worth noting that Rotterdam is gay-friendly, with special LGBTI get togethers.
Rotterdam review conclusion
In my opinion, the Rotterdam cruise ship offers a very good, big-ship experience. There is excellent dining in the specialty restaurants and the live music options are outstanding.
However, it's worth noting that service can be patchy, particularly in the busy entertainment venues. Also, Rotterdam can feel somewhat crowded – especially on sea days.
Cruisers should also remember that Rotterdam does not offer the inclusions of some other premium cruise lines.
The author sailed as a guest of Holland America Line.