The Oceania Nautica restaurants are mostly good, but as we discovered some are better than others. Among the best of them is the Italian-inspired Toscana. There are five Oceania Nautica restaurants:
The Grand Dining Room
Toscana
The Polo Grill
The Terrace Cafe
Waves Grill
Oceania Nautica Restaurants ratings
| Restaurants & food | Rating |
| --- | --- |
| Dining options | |
| Restaurant service | |
| Food quality & presentation | |
| Specialty restaurant(s) | |
The Grand Dining Room
The Grand Dining Room is the biggest of the Oceania Nautica restaurants. It brings to mind the sort of dining room you might expect in a five-star European hotel. The Grand Dining Room is chic, but it also retains a convivial ambiance. What's more, it boasts spectacular ocean views.
The menu is equally impressive and it changes daily. Starters include Oysters Rockerfeller with Spinach & Mornay Sauce, Oxtail Pot Au Feu Terrine as well as Chesapeake Bay-style Crab Cake. We especially enjoyed the Thai Watermelon-Cucumber Salad with Shiitake Mushrooms Cashews & Sweet Chilli Sauce. It was an outstandingly good dish.
For the main course we sampled an excellent Roast Leg Lamb with Aubergine-Onion Stuffing & Oregano Fondant Potatoes as well as a delightful Herb Crusted Tuna Loin with Baby Porcini Ravioli, Leeks & Red Wine Sauce.
The Grand Dining Room also serves signature dishes from consulting chef, Jacques Pépin. These include Salmon Supreme with Rice Pilaf & Choron Sauce as well as a somewhat disappointing Herb-Crusted Rotisserie Chicken with Mashed Potatoes & Jus De Roti.
It's worth noting that there is also a health-conscious Aquamar Vitality Cuisine menu. It has tempting, guilt-free dishes like Crispy Scallops Pastilla as well as Baked Apple Pougastel with Coconut Chantilly.
In addition, The Grand Dining Room also offer a food and wine pairing menu. Each evening the executive chef and head sommelier match the most impressive dishes with carefully selected wines. If you have a drinks package it's all-inclusive. If not, you simply pay for the matching wines by-the-glass – with a 20% discount.
At lunchtime The Grand Dining Room becomes The Bistro. The fare is light and on our voyage it included a delicious Salad Nicoise as well as a healthy Bangkok Power Bowl with Black Rice, Peanut-Tamarind Glazed Tofu, Cherry Tomatoes, White Cabbage & Peanut-Lime Ginger Dressing.
The Grand Dining Room is open for Breakfast, lunch and dinner. You don't need reservations.
Breakfast: 7:30am – 9:30am.
Lunch: 12:00pm – 1:30pm.
Dinner: 6:30pm – 9:30pm.
Toscana – the best of the Oceania Nautica restaurants
Toscana is an Italian-inspired specialty restaurant on Nautica. In fact, the name of the restaurant means 'Tuscany' in Italian. So it's no surprise the cuisine is focused on that region.
We rate Toscana as the best of the Oceania Nautica Restaurants. Starters include Octopus Carpaccio with Warm Fingerling Potato Salad & Amalfi Lemon Vinaigrette, as well as the Fritto Di Calamari which was divine with a squeeze of fresh lemon.
The house-made pasta is not to be missed either! In particular the Tagliolini Carbonara, it was mouthwateringly good with Pancetta & Egg Yolk-Parmesan Sauce.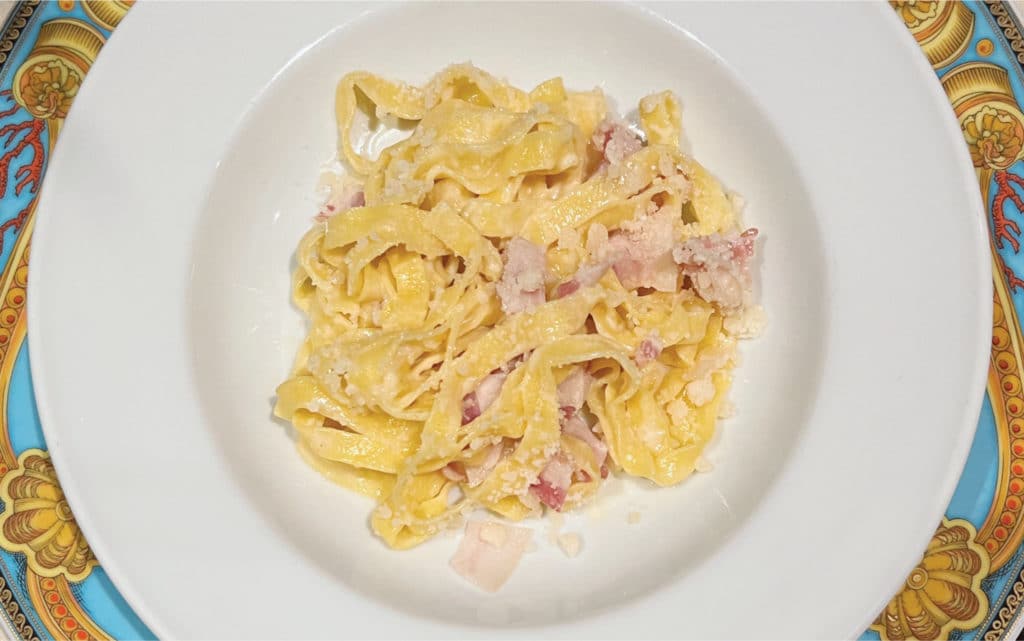 However, the best dish on the menu must surely be the Risotto Ai Porcini. This exquisitely delicate porcini risotto with ricotta cream & fried basil left us begging for more.
Mains include classics like Veal Scallopini with Ligurian Lemon Sauce & Italian Parsley as well as a particularly good Milanese-style Veal Chop, pounded thin and crumbed served with Roma Tomatoes, Radicchio & Arugula.
For dessert we enjoyed a delicious Crispy Apricot Tart with Pistachio Cream.
Toscana is open for dinner every night. Reservations are essential.
Dinner: 6:30pm – 9:00pm
The Polo Grill
The Polo Grill is an American-style steakhouse restaurant. This Oceania Nautica restaurant serves time-honoured classics like dry-aged beef, spring lamb, veal and succulent seafood.
The distinctive decor sets the scene. There are crisp, linen tablecloths and dark wood furnishings with high-back leather chairs.
The menu in the Polo Grill rarely changes. In fact, we gravitate to our preferred dishes whenever we sail on Nautica. That said, starters include a refreshing Timbale of Heart of Palm Remoulade, the ever-popular Colossal Chilled Shrimp Trio with Spicy Cocktail Sauce as well as an underwhelming Escargot in Casserole with Chive Sauce.
However the standout was the Roasted Beetroot & Garlic Goats Cheese Napoleon. It is an astonishingly good dish. There are also soups and salads, the Caeser being the most popular. It is prepared table side and is a real showstopper.
For main course there is Filet Mignon and Mojo-Marinated Pork Chop, as well as signature dishes like Kobe Beef with Truffle Demi-Glaze, not to mention Pancetta Wrapped Fillet of Veal with Bay Lobster Tail Oscar Style. We enjoyed the Whole Maine Lobster with Drawn Butter. It's all very good.
However, some people might find dessert somewhat less enticing. There is a Chocolate Fudge Brownie as well as a Trilogy of Homemade Vanilla Marshmellows and even a Chocolate Mousse Burger. Perhaps something lighter on the palette might bring a little balance to the meal.
The Polo Grill is open for dinner every night. Reservations are essential.
Dinner: 6:30pm – 9:00pm
Terrace Cafe
The Terrace Cafe is a surprisingly good buffet restaurant on Oceania Nautica. What's more, it has a magnificent teak terrace for al fresco dining.
At breakfast the Terrace Cafe has a lovely spread of hot and cold options. At lunchtime there is antipasti and salads, as well as fresh lobster, jumbo shrimps, roasted meats and fish. For dinner the buffet is usually themed around the local ports of call. There is also a Chef's Market Dinner. On our review voyage it presented the flavours of Greece and Italy. On other nights the Terrace Cafe showcases the menu from Red Ginger, the pan-Asian specialty restaurant on the larger Oceania Cruises ships.
The Terrace Cafe is open for breakfast, lunch and dinner. You do not need to make reservations.
Breakfast: 7:00am – 10:00am.
Lunch: 12:00pm – 2:00pm.
Dinner: 6:30pm – 9:00pm.
Waves Grill
The poolside Waves Grill is the most casual of the Oceania Nautica restaurants. There is a light breakfast menu as well as lunchtime pleasers like burgers and hot dogs.
Sandwiches are also available, including the Oceania Cuban with Slow-Roasted Marinated Pork, Ham, Swiss, Dill Pickles & Mustard as well as the Grilled Ruben with Corned Beef Brisket, Sauerkraut, Swiss & Special Russian Dressing.
Orders are placed at the counter and then delivered to your table. Waves Grill also have a buffet salad bar.
Waves Grill is open for breakfast and lunch every day.
Breakfast: 6:30am – 10:30am
Lunch: 11:30am – 4:00pm
For more information visit the Oceania Cruises website.