Silver Whisper is one the the world's most luxurious and intimate cruise ships, and the most popular room onboard is the Silver Whisper Veranda Suite. Indeed, all these suites were refreshed in 2017, and our Silver Whisper Veranda Suite review tells you all you need to know about these idilic havens at sea.
Silver Whisper Veranda Suite ratings
| Room | Rating |
| --- | --- |
| Size | |
| Design | |
| Cleanliness | |
| Condition | |
| Sitting space | |
| Closet space | |
| Soundproofing | |
| Balcony | |
| Bathroom | Rating |
| --- | --- |
| Size | |
| Storage space | |
| Products | |
| Towels | |
| Shower/bath | |
| Cleanliness | |
| Condition | |
| Bedding | Rating |
| --- | --- |
| Comfort | |
| Condition | |
| Pillow options | |
| Blanket options | |
Position and layout
There are 143 Veranda Suites which span decks 5 to 9 on the Silver Whisper, but deck 6 has more suites than any other (with 52 in total).
There are four Veranda Suite categories (V1 to V4). Each is identical in size and layout, but V3 and V4 categories offer preferred mid-ship or high-deck locations.
Each Silver Whisper Veranda Suite offers 28 sq. m. (285 sq. ft.) of internal space, as well as a 6 sq. m. (60 sq. ft.) private teak veranda. In fact these are some of the largest standard rooms at sea and almost double the size of some others in the luxury cruise market. As you'll see from this review, they really impress.
A wide entry hall runs down one side of the suite, which gives access to a spacious marble bathroom as well as a walk-in closet. The living space is dived into two distinct sections – with a bedroom as well as a sitting area. Floor-to-ceiling glass doors lead on to the impressive teak veranda.
Your private teak veranda
Arguably the best part of the Silver Whisper Veranda Suite is the teak veranda itself. We think it is a real luxury, especially as expensive teak is disappearing from the verandas of most new ships.
The veranda is a private haven, indeed it is a retreat where you can to feel the gentle sea breeze as you relax in your own reclining deck chair.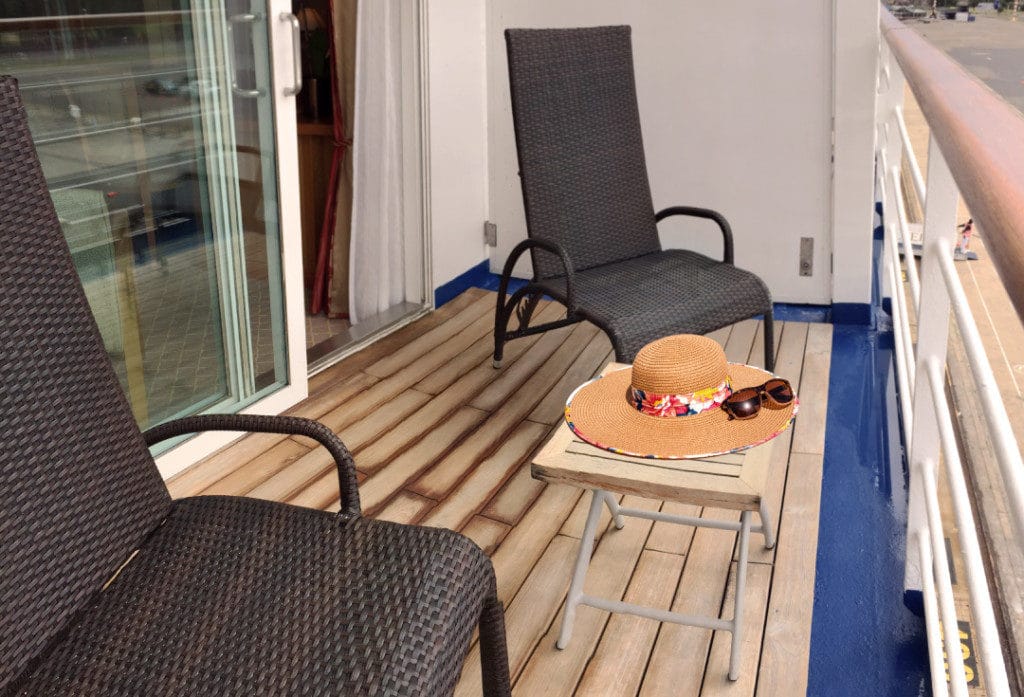 As we've noted, at 6 sq. m. (60 sq. ft.) the veranda is large. It is also deep so there is plenty of space for two people to move around.
However, the only minor downside was the mismatched outdoor furniture – the small, white-legged table seemed like it didn't belong with the dark coloured recliners.
An elegant Silversea living space
The living space in the Silver Whisper Veranda Suite is great. During our review we found it to be bright and airy and the new décor is a real winner. The old red carpets, together with the sofa, have been refreshed in colours of teal and cream which its a big improvement.
The space is like a junior suite in a hotel, with separate sleeping and sitting areas. You can choose either a queen or twin bed configuration. Either way the bedding is framed by a leather bed head as well as night stands on each side.
The bed is super comfortable and has a premium mattress, choice of pillows and Pratesi sheets so that you get a good nights sleep. At the foot of the bed is a makeup table.
The sitting area has a smartly recovered sofa, coffee table and chairs. The coffee table converts to a small dining table so you to enjoy meals in your suite.
On the opposite side of the sitting area is a writing desk, storage shelves and complimentary mini-bar, as well as the entertainment unit.
Silversea also made improvements to the entertainment unit during the 2017 refresh. There is a good-sized flat screen TV which also has access to streaming movies on demand. The old DVD player with protruding cables has gone, however they are happy to put it back if you prefer.
Attractive artwork hangs on the walls in the Veranda Suite and a fresh orchid also brings a touch of sophistication to this really lovely space.
In the hall there are thoughtfully placed coat hooks and a dressing mirror for checking yourself before leaving for dinner.
Marble bathroom
Everybody loves a great bathroom and the Silver Whisper Veranda Suite certainly delivers. The opulent marble bathroom boasts a full size tub as well as a separate walk-in shower with glass door and a double-vanity with large mirror.
There is plenty of storage space on either side of the mirror as well as underneath the vanity. In addition, Silversea guests have a choice of bathroom products, including hypoallergenic and Bvlgari brands.
You can switch products mid-voyage too. Plush bathrobes, slippers and Silversea flip-flops are also provided.
Storage
The Silver Whisper Veranda Suite has lots of storage space. There is a walk-in closet with drawers and enough hanging space for at least two cases-full of clothes.
Insider's tip: We noted that large hard-case luggage does not fit easily underneath the bed. To get around this, simply open your cases flat before sliding them under the bed instead.
Silver Whisper Veranda Suite inclusions
The Silver Whisper Veranda Suite includes the following amenities:
Teak veranda with patio furniture and floor-to-ceiling glass doors
Sitting area
Twin beds or queen-sized bed
Marbled bathroom with double-vanity, separate shower and full-sized bathtub
Walk-in wardrobe with personal safe
Radio/alarm clock with iPod docking station
Direct-dial telephone
Refrigerator and bar setup, stocked with your preferences
Pratesi® fine bed linens and down duvet covers
Premium mattresses and a choice of pillows
Plush robes and slippers
Choice of European bath amenities
Vanity table with hair dryer
Writing desk with personalised stationery, binoculars, and umbrella
Free WiFi
Flat screen TV(s)
Complimentary interactive mobile content
Dry cleaning and pressing service (fee applies)
Our Sliver Whisper Vernada Suite review conclusion
As our Silver Whisper Veranda Suite review shows, there is space, style and loads of little luxuries. We love the teak veranda and the roomy marble bathroom. We rate the Veranda Suite at 4.5-stars.
The author sailed as a guest of Silversea.
Read next