Wellness ratings
| Outdoor | Rating |
| --- | --- |
| Sun deck | |
| Jogging | |
| Pool(s) | |
| Indoor | Rating |
| --- | --- |
| Spa | |
| Gym | |
The Retreat
You really need to experience The Retreat appreciate it. It is like having your own private yacht with staff to take care of every whim.
I have to admit to having some trepidation about The Retreat – would it be worth it? Hiring a Cabana in The Retreat costs US$249 on port days and US$349 on sea days. But those doubts soon slipped away when a mid-morning bottle of Bollinger Special Cuvée Champagne and caviar arrived. Guests in The Retreat are spoilt!
The are 15 Cabanas for hire in The Retreat on Seabourn Ovation, plus 1 cabana for massage and spa treatments. Each Cabana has a sofa and dining table, as well as a stocked minibar, flat screen TV and privacy curtains. There are also padded sun loungers, plush robes and flip-flops.
What really impresses about the Cabanas in The Retreat on Seabourn Ovation is that most open up to reveal glorious ocean views – a real treat.
The Retreat on Seabourn Ovation has an extra-large central whirlpool hot tub as well as plenty of additional lounge and sitting areas. It's all protected from the heat of the sun by shade cloth.
Guest in The Retreat dine on a special menu available nowhere else onboard and they can also select from an exclusive range of cocktails created specially for The Retreat.
The Retreat is forward on deck 12. Reservations are highly recommended.
Seabourn Ovation pools and whirlpools
The sparkling waters of the resort-style Seabourn Ovation pools are a refreshing treat. They shimmer like a floating oasis where relaxation and pampering are the order of the day.
The largest of the Seabourn Ovation pools is midship on deck 9 together with two whirlpool hot tubs. There is teak decking and plenty of comfortable sun loungers too. Cabana-style day beds with soft mattresses are also available and there are extra sun loungers overlooking the pool on deck 10.
There is poolside bar service so you can order a cool cocktail right from your sun lounger. In addition, there are presentations of iced treats and cocktails throughout the day and the attentive staff even offer chilled face towels.
The second Seabourn Ovation pool is on deck 5. It is at the back of the ship and has spectacular wake views. This pool is small – only large enough for a quick cool off – but the pool area is quieter and has an exclusive feel.
There are also two whirlpool hot tubs around this pool. The entire area is decked out in beautiful teak, with sun loungers and day beds for relaxing – some arranged for full sun while others are in the shade. There is also bar service, though this can be patchy.
It's worth noting that the starboard side is a designated smoking area.
The Seabourn Ovation pools are heated to approximately 27ºC / 80ºF.
At the other end of the ship, perched high above the ocean on deck 6, is Seabourn's most iconic whirlpool hot tub. It has commanding views from its position on the bow. Understandably, this whirlpool is very popular, especially at sunset. The surrounding deck has sun loungers and plenty of beach towels as well as cool beverages.
The Spa at Seabourn has a hot tub and there is also a large whirlpool in The Retreat on deck 11.
Sun Terrace
The Sun Terrance is one of the little gems onboard Seabourn Ovation. It is rarely visited, probably because it is hidden away at the front of deck 12. But it is the perfect spot to relax in solitude and admire the views.
There are luxurious, padded sun loungers arranged in pairs, as well as towels and a selection of cold beverages.
The Seabourn Ovation spa
The Seabourn Ovation spa is an oasis of calm in a sea of tranquility. It rivals spas found in the best five-star resorts and offers an indulgent range of beauty and wellness treatments.
The Spa at Seabourn is on deck 9 behind the main pool. It has treatment rooms, a thalassotherapy pool, saunas, steam rooms, a salon, a motion studio and a fitness centre. There is also a serenity deck to relax after a treatments.
Seabourn have partnered with celebrity wellness guru Dr. Andrew Weil to create many of the treatments on offer. They take a holistic approach to the spa and wellness experience, combining physical therapy with environmental and spiritual wellbeing.
The Seabourn Ovation spa also has a certified yoga practitioner available to inspire and educate guests.
Gym and jogging
The Seabourn Ovation gym is the perfect place to burn off those extra vacation calories. It has fitness machines, free weights, treadmills and bikes, as well as inspiring ocean views.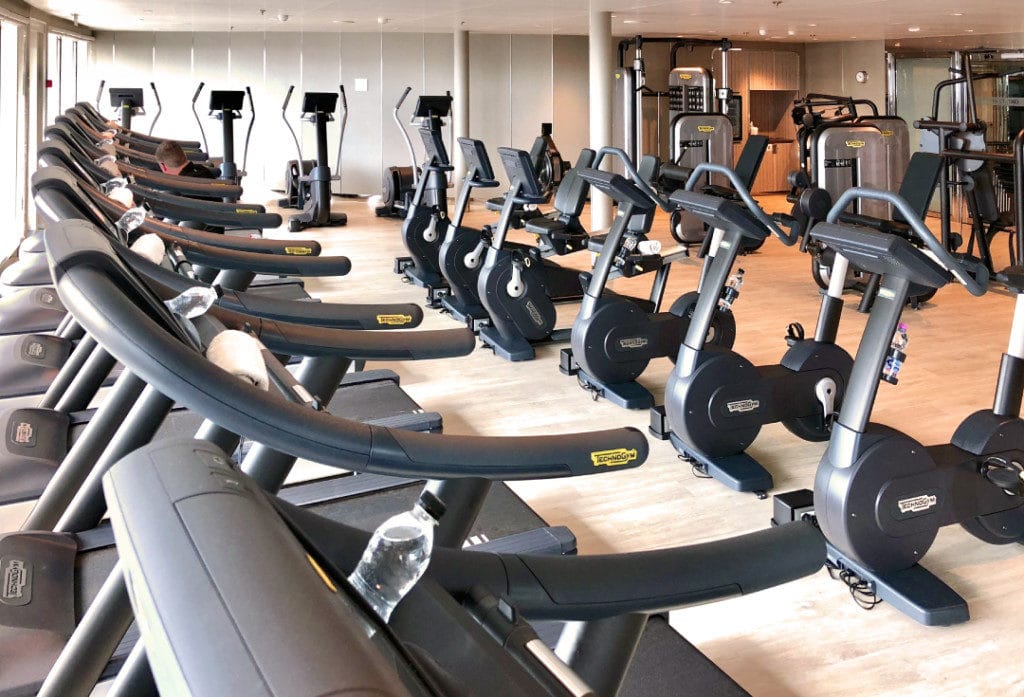 The gym also has pilates, yoga and step-classes. In addition, a personal trainer is available for hire as well.
Unfortunately, Seabourn Ovation does not have an outdoor jogging track, so most guests use the open deck on deck 5 to jog or power-walk.
The author sailed as a guest of Seabourn Cruises.
Read next