The Silversea dress code is more traditional than other luxury cruise lines. The dress code ranges from casual to formal depending on the time of day and the activities you have planned.
The dress code
Most guests on Silversea cruises wear resort-style clothing in the morning and afternoon, but at night they like to dress up. This is especially so on formal nights when Dior evening gowns and Zegna Tuxedos are commonplace.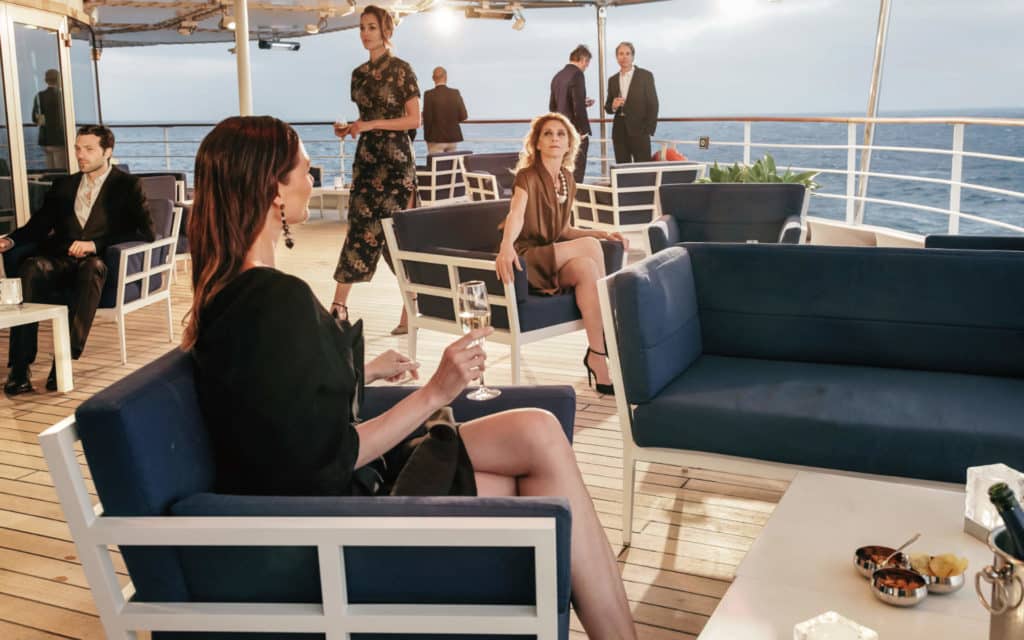 What to wear during the day – the daytime Silversea dress code
The days on a Silversea cruise are relaxing and carefree. The Silversea dress code reflects this.
Silversea suggest smart resort-style clothing in public areas during the day. For women this includes dresses, shorts, slacks, blouses and T-shirts. Men can wear shorts, jeans, shirts and T-shirts.
Attire around the pool deck is even more relaxed where swimsuits and sarongs are de rigueur. It's worth noting that you can't wear a swimsuit at indoor dining venues.
What to wear on Silversea shore excursions
What you should wear on a shore excursion will depend on the activity and climate. However, the rule of thumb is to keep your clothing comfortable. Also prepare for unexpected changes in the weather.
Warm weather shore excursions generally call for light fitting clothing. It is also wise to wear a broad brimmed hat for protection from the sun.
Cool weather shore excursions require more clothing. This usually includes long pants, sweaters or knits, as well as scarfs and even puffer jackets.
It's worth remembering cultural sensitivities when dressing for a shore excursion. Some religious and cultural sites have strict dress codes. This might mean wearing clothing that covers your arms, legs or head. Consult the Silversea shore excursions desk if you are unsure of what to wear.
The Silversea dress code after dark
The Silversea dress code at night time steps up a notch. After 6:00pm the dress code will be either casual, informal or formal. The dress code will be advised in the Silversea newsletter known as the Daily Chronicles.
Casual
On casual nights ladies wear pants, blouses, skirts or casual dresses. On the other hand, men dress in open-neck shirts and slacks. Jackets are not required.
Informal
Informal wear includes dresses or pantsuits for ladies while men wear smart pants and jackets. Ties are optional.
Formal
On formal nights ladies should wear an evening gown. Men wear a Tuxedo or dark suit with either a tie or bowtie.
There will always be at least one formal night per voyage. In fact, the longer the voyage, the more formal nights. Cruises of less than 10 days have one formal night, cruises between 10 and 13 days have two formal nights, while longer cruises have three formal evenings.
Most guests enjoy dressing up on formal nights, but you don't have to. You can dress informal or even casual on formal nights. Informal can be worn at restaurants including La Terrazza, Seishin, Kaiseki or Silver Note. Casual clothing is always acceptable at the Hot Rocks and Spaccanapoli outdoor restaurants.
More information on the Silversea dress code can be found at the Silversea website.
Also read