Regent Seven Seas Cruises have revealed spectacular images and exciting details of the new Seven Seas Splendor suites.
See our Seven Seas Voyager review.
Seven Seas splendour will debut in February 2020 and the cruise line have gone to extraordinary lengths to make sure it outshines its competition. There will be more than an acre of Italian marble onboard and about 500 crystal chandeliers as well. Not-to-mention the fact that every guest stays in a sumptuous suite with a private veranda.
Seven Seas Splendor Veranda Suites
The entry level Veranda and Deluxe Veranda Suites are up to 33 sq. m. / 355 sq. ft. in size (including the veranda). They are among the most spacious veranda suites at sea, although not quite as large as the industry leading Silver Muse Veranda Suite.
Interestingly, the Seven Seas Splendor Veranda Suites do have the biggest verandas in their class. Regent have devoted more of the suite's footprint to the veranda. So on average the verandas measure about 8 sq. m. / 85 sq. ft.
These Seven Seas Splendor Veranda Suites will boast a separate bedroom and sitting area. The decor will have a relaxed island manor-style.
Most importantly there will be that extra-large veranda for enjoying the ever changing ocean views. I'm sure these suites will be very popular.
Superior Suites
The Superior Suites on Seven Seas Splendor will be ideal for those who like more space.
The Superior Suites will be bigger than the entry level Veranda Suites. In fact each one will measure 43 sq. m. / 463 sq. ft. It will also be filled with light and have a layout that capitalises on the expansive ocean views.
Plus, the Superior Suite will have an oversized veranda too.
Concierge Suites
The chic Concierge Suites on Seven Seas Splendor will raise the bar for luxury cruising. They will be large – 43 sq. m. / 463 sq. ft. – and have a great layout that maximises the view. Each Concierge Suite will have a floor-to-ceiling glass door as well as a large picture window. Plus, there will also be an extra-large veranda with luxurious outdoor furniture.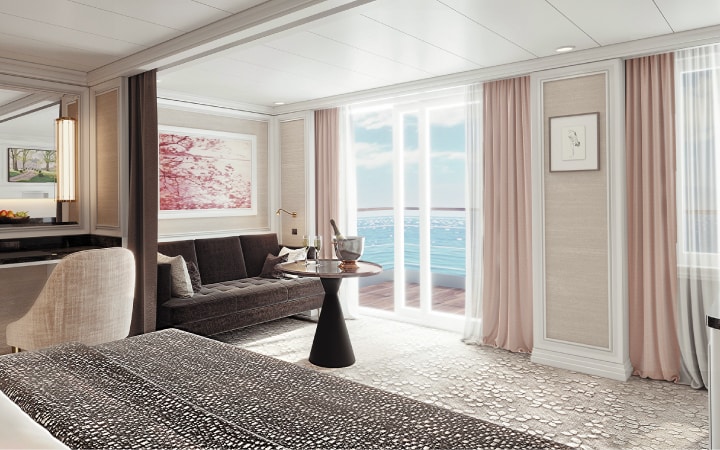 The bathroom in the Concierge Suite will be clad in fine Italian marble and boast a dual-basin vanity.
Penthouse Suites on Seven Seas Splendor
The Penthouse Suites will take things to a whole new level. They will measure 60 sq. m. / 645 sq. ft. with a separate living room and bedroom. There will also be a double-size veranda which can be accessed from either the living room or the bedroom.
In addition the Penthouse Suite will have a large walk-in closet as well as a marble bathroom with even more storage space. It is sure to be the perfect home away from home.
New "Distinctive Suites" category with butler service.
The largest Seven Seas Splendor suites will be grouped under a new category known as "Distinctive Suites". These Distinctive Suites will include a range of additional amenities like butler service, even more luxurious accommodations and guaranteed restaurant reservations.
One of the largest of these Distinctive Suites is the Master Suite. It is a two-bedroom residence which will be like a Park Avenue apartment. Indeed the palatial suite will measure up to 195 sq. m. / 2,098 sq. ft.
There will be four Master Suites on Seven Seas Splendor. They will all be located at the back of the cruise ship offering uninterrupted wake views.
Other Distinctive Suites include the opulent Grand suite with furniture based on haute couture fashion and an expensive veranda.
There is also the Splendour Suite which comes in either one or one-and-a-half bedroom configurations.
However, think the iconic Seven Seas Suite will be among the most popular of the Distinctive Suites. It will be a one-bedroom apartment and have a cosmopolitan decor.
There will be double glass doors leading onto an oversize veranda as well as an extra large marble bathroom. This Seven Seas Suite will compete directly with the Silver Muse Silver Suite.
Summing up the new Seven Seas Splendor suites
Seven Seas Splendor will have a total of ten room types, including the top-of-the-line Regent Suite.
The range of Seven Seas Splendor suites really impresses – offering something for everyone.
A limited number of suites are available for sailings during Seven Seas Splendor's inaugural season. To learn more, please visit the Regent Seven Seas website.