In less than six months time Regent Seven Seas Cruises will launch their newest luxury cruise ship. Seven Seas Splendor is sure to dazzle with designer suites and beautiful public spaces, but that's not all.
Seven Seas Splendor will also feature new dining experiences as well as immersive, gourmet land tours. There will even be a chic, Parisian-style cafe venue.
First woman to captain a new luxury cruise ship
Captain Serena Melani will take the helm of Seven Seas Splendor. In fact, she will be the first woman to captain a brand new luxury cruise ship.
The 45-year old from Livorno, Italy began her career at the age of 16 as a cadet on cargo ships. In 2010 she joined Regent Seven Seas Cruises and within 6 years became the line's first female Master Captain aboard Seven Seas Explorer.
The 750-guest Seven Seas Splendor will be the second of the Explorer-class vessels in the Regent Seven Seas Cruises fleet. The opulent ship will have more than an acre of Italian marble onboard and about 500 crystal chandeliers. In fact, insiders say the ship has been designed to exceed all expectations.
Sweet suites
Indeed, the top suite onboard is sure to impress. At 412 sq. m. / 4434 sq. ft. in size the Regent Suite will be the biggest of any luxury cruise ship. It comes with a personal sauna and steam room, a US$200,000 bed and unobstructed 270-degree views over the ships bow.
Although, here at The Luxury Cruise Review we especially like the more modest Concierge Suites. These beautiful suites look like they belong in the pages of Vogue Living.
Each 43 sq. m. / 463 sq. ft. Concierge Suite will have floor-to-ceiling glass doors that lead on to an extra-large veranda with luxurious outdoor furniture. They will also have one of the most beautiful bathrooms afloat.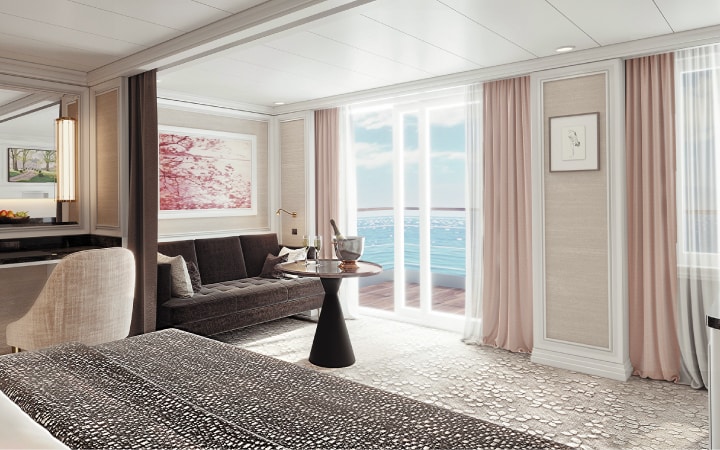 Enchanting dining
Each evening on board Regent Seven Seas Cruises ships, La Veranda transforms into Sette Mari at La Veranda – a classic Italian restaurant. However on Seven Seas Splendor there will be a twist – a new over-water alcove. Guests will be seated over the water, giving them an even closer connection to the sea. Not to mention stunning sunset views.
Indeed, Seven Seas Splendor will also elevate lunch at La Veranda to new culinary heights. There will be more local ingredients, reflecting the exotic destinations where the luxury cruise ship sails.
The ever popular Coffee Connection will come-of-age on Seven Seas Splendor with a new al fresco seating area. It will be a chic retreat allowing guests to enjoy coffee and delectable pastries in the gentle morning sunshine.
Seven Seas Splendor will also debut a range of exclusive new Gourmet Explorer Tours. Regent Seven Seas Cruises promise these tours will be one-of-a-kind epicurean adventures, taking guests to local markets, wineries and even visiting renowned chefs.
Seven Seas Splendor will debut in February 2020 and is sure to raise the bar for luxury cruising. For more information visit the Regent Seven Seas Cruises website.