The Silver Spirit restaurants are all very good, but some are better than others. I especially enjoyed the Japanese restaurant called Seishin. In fact, I rate it as the best Japanese restaurant at sea. There are eight Silver Spirit restaurants, two of which are specialty dining venues:
Seishin (specialty restaurant).
La Dame (specialty restaurant).
Atlantide.
Indochine.
La Terrazza.
Silver Note.
Spaccanapoli
The Grill and Hot Rocks.
Silver Spirit Restaurants ratings
| Restaurants & food | Rating |
| --- | --- |
| Dining options | |
| Restaurant service | |
| Food quality & presentation | |
| Specialty restaurant(s) | |
Seishin – the best of the Silver Spirit restauarnts
The Japanese restaurant on Silver Spirit is called Seishin. In fact, the name means 'spirit' in Japanese. It serves exceptional cuisine and I rate it as the best Japanese restaurant at sea.
The chefs at Seishin take inspiration from Nikkei cuisine, which is a gastronomic sensation that fuses Japanese and Peruvian culinary techniques. Indeed, they combine the finest ingredients from the ocean and the field in imaginative, mouthwatering dishes.
Seishin is a small restaurant with seating around a chef's hotplate as well as other intimate tables for two. It is open for lunch and dinner.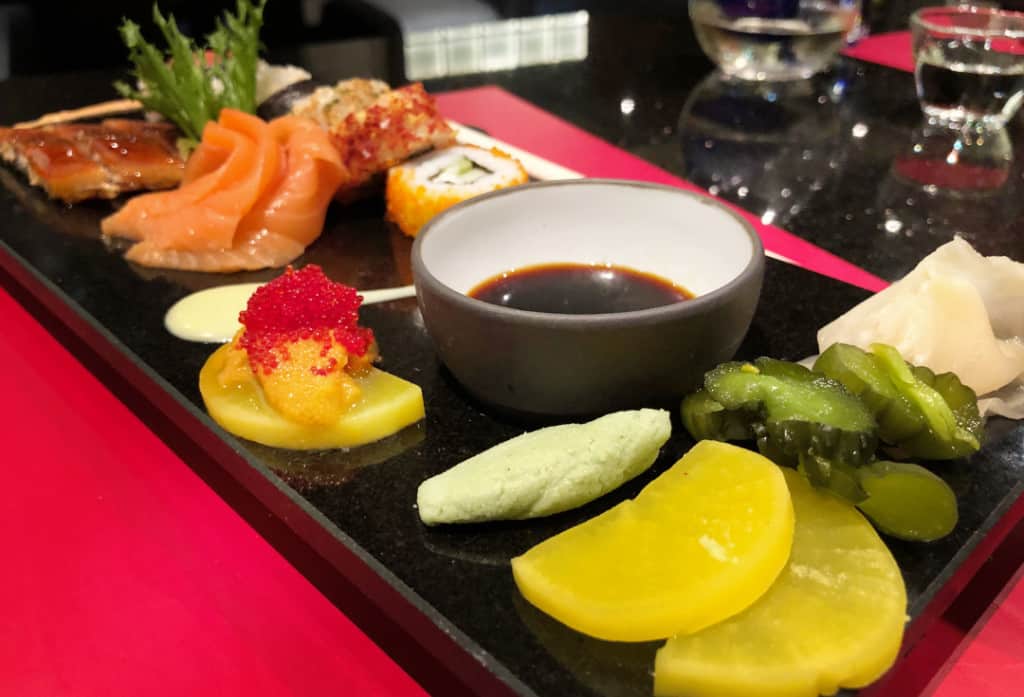 The lunch time menu offers a choice of sashimi and sushi. There is Barbecued Eel as well as Sea Urchin – a real treat for foodies. I also enjoyed the Marinated Mackerel with Daikon, Lemon and Sweet Soy. The Tuna and Salmon sashimi were both top quality. There are also California Rolls, Spicy Tuna Rolls and delightful Rainbow Rolls with Tempura Shrimp, Asparagus, Cucumber & Barbecued Eel.
However, in the evening the menu changes. Indeed, Seishin becomes a fine-dining Japanese restaurant with a tantalising menu that includes astoundingly good Wagyu Beef Tataki and the restaurant's signature Miso Glazed Black Cod.
I especially enjoyed the "Calvisius" Tuna Tartar with Garlic, Scallions, Wasabi and Oscietra Caviar. It's not to be missed. Also, the Yuzu-infused Seafood Consommé with Lobster Medallions was a taste sensation. Ditto for the King Crab Tempura Balls with Yuzu Mayonnaise.
When you dine in Seishin I recommend enjoying a Japanese beer or trying some Saki (Japanese rice wine) with your meal, both are perfect accompaniments to the delicious Japanese cuisine. However, you can also order wine and champagne if you prefer.
Seishin is not only the best of the Silver Spirit restaurants, I rate it as the best Japanese restaurant at sea.
It's worth noting that there is a cover charge of $US40 per person at dinner.
Lunch: 12:00pm – 2:30pm (not on embarkation day).
Dinner: 7:00pm – last seating 9:30pm.
La Dame
La Dame is a French specialty restaurant. It is an intimate and quintessentially Parisian venue with a six course menu that fuses the best of haute cuisine and modernity.
Starters include the restaurant's signature farm-raised Caviar with Condiments as well as Foie Gras. There is also Nos Escargots de Bourgogne which is served out of the shell on French bread.
For main course there are dishes like Lobster Tail with Truffled Leeks & Green Peas, Dover Sole, Glazed Breast of Perigord Duck and Grilled Rack of Lamb with Gratin Potatoes, Thyme-infused Lamb Jus & French Beans.
The Soufflé au Grand Mariner is one of the most popular desserts, but I thought the Mousse au Chocolat covered with a Chocolate Dome, Strawberry Salsa and Candied Orange was a real eye-catcher.
It's worth noting that you order all courses at the beginning – including dessert.
I dined in La Dame twice on my voyage, but couldn't help feeling that food and service both missed the mark. On the other hand, fellow guests told me of better experiences. Perhaps I was just unlucky.
There are a few other things worth mentioning about La Dame. The menu doesn't change during the voyage. Also, there is a cover charge of $US60 per person.
In addition, you can purchase vintage wines by the glass or bottle from the Connoisseurs Wine List. There is Cristal 2009 as well as Domaine de Chevalier Pessac-Léognan Blanc 2014 and Château Margaux 2007 among many others. However the house wine selection in La Dame is good and the staff are happy to match them to your meal choices.
La Dame is open for dinner only. Reservations are essential.
Dinner: 7:00pm – last seating 9:30pm.
Atlantide
Silver Spirit breaks with tradition in that it does not have a main dining room, however the Atlantide restaurant has been adopted as such by most guests.
Indeed, the restaurant feels like a grand dining room with crisp table linen and velvet chairs. There are also sweeping architectural curves that add a sense of drama. But what really impresses is the food. It is fresh, innovative and delightfully presented.
Atlantide is open for breakfast, lunch and dinner. The menu is mostly European. In the evening it has Chef's Selections which are seasonal and change regularly. Also, there are Atlantide's Favourites which are almost always available. These include Grilled Lobster Tail, as well as Oscietra Caviar with Traditional Accompaniments.
I especially enjoyed the Roasted Squab with Pearl Barley Risotto & Truffle Wine Reduction. The Cream of Wild Forest Mushroom Soup was also excellent. While for dessert I couldn't resist the deconstructed Lemon Meringue Pie.
The wines served in Atlantide are excellent and include both new and old-world varieties. There is a different selection each night, however if the wines on offer are not to your liking simply let the sommelier know. They will happily find you a different variety. In addition, you may also purchase wine by the glass or bottle from the Connoisseurs Wine List.
It's worth noting that Atlantide is the biggest of the Silver Spirit restaurants, however it never tends to feel crowded. There is seating for couples as well as groups of up to twelve people. You do not need to make a reservation.
Breakfast: 8:00am – 9:30am
Lunch: 12:00pm – 1:30pm
Dinner: 7:00pm – last seating 9:30pm.
Indochine
Indochine debuted on Silver Muse in 2017. Now on Silver Spirit, it has a much improved menu with dishes from India, Thailand, China, Japan and Indonesia. Indeed, I think Indochine is one of the best Silver Spirit restaurants.
The concept is based on the travels of Marco Polo – the places he visited and the spices he introduced to the West. It's an amalgam of flavours and cuisines that is sure to impress.
The menu is full of tempting choices. There is a Tiger Prawn Tartar with Shallot, Lemongrass, Olive Oil & Vinaigrette. Also, the Saku Tuna Sashimi with Shiso Leaves and Citrus Dressing was outstanding. There are oriental soups and a selection of meat and fish main course dishes. I especially enjoyed the Red Snapper Fillet Wrapped in Banana Leaf with Thai Sweet Chilli Sauce.
The dessert menu is a delectable delight. There is Ginger & Kaffir Lime Crème Brûlée, as well as Coconut Rice Pudding. However, the Sample Platter is a real treat. It includes Taro Pudding, Coconut & Lime Pannacotta, Mango Kulfi, Kalamansi Sorbet & Exotic Fruit Salad. It's the perfect balance between sweetness and zesty fresh.
In most parts of Asia, meals are best shared. You can do this at Indochine, although the dishes are equally suited to à la carte dining.
Asian beers work really well with the spicy food served at Indochine, so there is a great selection including Tiger and Asahi. However, wines are also available if you prefer.
It's worth noting that while reservations are recommended, they are by no means essential.
Dinner: 7:00pm – last seating 9:30pm.
La Terrazza – one of the most loved Silver Spirit restaurants
La Terrazza is a northern Italian-style restaurant on Silver Spirit. Moreover, it has been an iconic part of the Silversea dining scene since the cruise line started in 1994.
The restaurant showcases the Italian heritage of Silversea. Indeed, on Silver Spirit it continues to serve some of the best pasta dishes at sea, or for that matter, anywhere.
La Terrazza embraces the Italian concept of 'slow food'. That is to say, lingering over enjoyable meals with friends or loved ones. I think the menu is perfectly suited to this.
It starts with a delightful glass of Italian Spumanti as well as an antipasti platter with delicious Duck Salami, Burrata Cheese, Seabass Carpaccio and Tuna Stuffed Bell Peppers. It's enough to wet your appetite while you peruse the menu.
Next comes La Terrazza's Signature Antipasti. There's Insalada Caprese – Buffalo Mozzarella, Tomatoes and Basil – as well as a zesty Octopus Salad. Although I thought the star was the Carpaccio di Manzo – Thinly-sliced Beef Tenderloin with Arugula, Cherry Tomatoes, Chervil & Extra Virgin Olive Oil.
Also, the pasta course is not to be missed. Indeed, the pasta is made fresh every day and there are ten different dishes to choose from. There is Pappardelle with Braised Duck, Red Wine & Tomato Sauce as well as a spectacularly good Pansotti in a decadent walnut and butter sauce. I also relished the Rigatoni alla Gricia with Pancetta, Onions and Parmigiano Reggiano.
Your journey through the cuisine of northern Italy continues with a great selection of soups, which includes one of the best lentil soups I've tasted.
There are vegetarian, meat and fish main courses. The classic Veal Saltimbocca is a popular choice, so too are the King Prawns Pan-fried in Garlic. The Seabass with Balsamic Vinegar Fish Stock, Capers, Garlic & Olives was Mediterranean simplicity on a plate.
Dessert is a triumph of sweet temptation. There is Tiramisu, Lemon-infused Sponge Cake as well as a very good Hazelnut Sponge. However, I liked the Cassata Siciliana best. It is a sweet ricotta cake with Almond Marzipan & Candied Fruit explosions.
It's worth noting that the wines perfectly compliment the cuisine. In fact, they form part of a special Italian collection and you can switch between white and red as you please.
This wonderful dining venue remains one of my most loved Italian restaurants.
La Terrazza is among the most popular of the Silver Spirit restaurants, so you will need to make a reservation for dinner. However, there is no extra charge. The restaurant also serves a buffet breakfast and lunch.
Breakfast: 7:30am – 10:00am
Lunch: 12:00pm – 2:00pm
Dinner: 7:00pm – last seating 9:30pm.
Silver Note
Silver Note is the jazz club on Silver Spirit. The concept is unique to Silversea. In fact it was pioneered on Silver Spirit in 2009.
Back then it was called Stars Supper Club and it served an astoundingly good tasting menu. Today the menu has evolved, but the music remains as good as ever.
The Silver Note menu is à la carte with six starters, six mains and two desserts.
The starters are mostly tapas-style dishes, like Cereal with Andean Grains, Quinoa & Farro, Wild Rice, Chillies and Forest Mushrooms. There is also the Beehive with Saku Tuna, Tiger Prawns, Seabass, Veal Tartar, Asparagus Tips, Beef Carpaccio, Avocado Puree, Chilli Puree and Scrambled Egg with Caviar. It is perhaps more Instagram worthy than gastronomically satisfying.
Indeed, I can't help feeling that each dish has so many elements that the individual tastes tend to clash. There's Lobster Tail with Aji Limo, Samphire, Butter, Sour Cream, Mashed Potatoes and Shiso Cress as well as Forgotten Vegetables with Braised Root Vegetables, Beetroot Jus, Goat's Cheese, Rocotto Pepper Gazpacho, Wild Mushrooms, Dried Chillies, Purple Onions, Dried Leaves & Flowers.
That said, for me the real star of Silver Note was the music – in particular the silky smooth vocals of Chantel and the captivatingly understated accompaniment of Ester on piano.
Insider's tip: You don't need to dine at Silver Note to enjoy the music. Indeed, I would often swing by after eating in one of the other Silver Spirit restaurants to have a nightcap and request a song or two.
It's worth noting that only a handful of tables at Silver Note allow both diners to face the stage, so be sure to request one when you make your onboard reservation.
Dinner: 8:00pm – last seating 11:00pm.
The Grill and Hot Rocks
The Grill is a casual, poolside dining venue on Silver Spirit. It has unbeatable ocean views and enjoys a gentle sea breeze, so it's a popular lunchtime eating spot.
Usually there is a lunchtime buffet which is themed around the cultures and cuisines of the ports of call. However, there are à la carte options too, like the Daily Fish with Lemon, Capers and Olive & Cherry Tomato Dressing or Mezze Plates, Salads, Wraps, Burgers and Hot Dogs.
In the evening things are very different. As the sun sets, the pool deck takes on a candlelit ambiance and the Grill becomes Hot Rocks – a restaurant with table service and crisp linen napkins.
Insider's tip: The dress code at The Grill and Hot Rocks is always casual.
Hot Rocks is a unique dining experience where you cook your food at the table on lava stones heated to 400ºC / 750ºF. There is beef, veal, swordfish and shrimp as well as a vegetarian tofu option. They all come with a variety of zesty dipping sauces too.
You will need a reservation for this Silver Spirit restaurant at dinner time.
Lunch: 12:00pm – 3:30pm
Dinner: 7:00pm – last seating 10:00pm.
Spaccanapoli
Spaccanapoli is a restaurant serving traditional Naples-style pizzas on Silver Spirit.
In fact, I think the pizzas are among the best I've tasted and just like the pizza in Naples the crust is thin and crispy, while the tomato sauce has the perfect balance between sweet and salt.
Insider's tip: The dress code at Spaccanapoli is always casual, even on formal nights.
There are Italian classics like Pizza Margherita and Pizza Bufalina, but I enjoyed the Pizza Diavola with Spicy Italian Sausage and Pizza Prosciutto E Rucola. You can order either small or large sizes – small was perfect for lunch.
You will need a reservation for dinner at Spaccanapoli.
All day dining: 11:00am – 11:00pm.
The author sailed as a guest of Silversea Cruises.